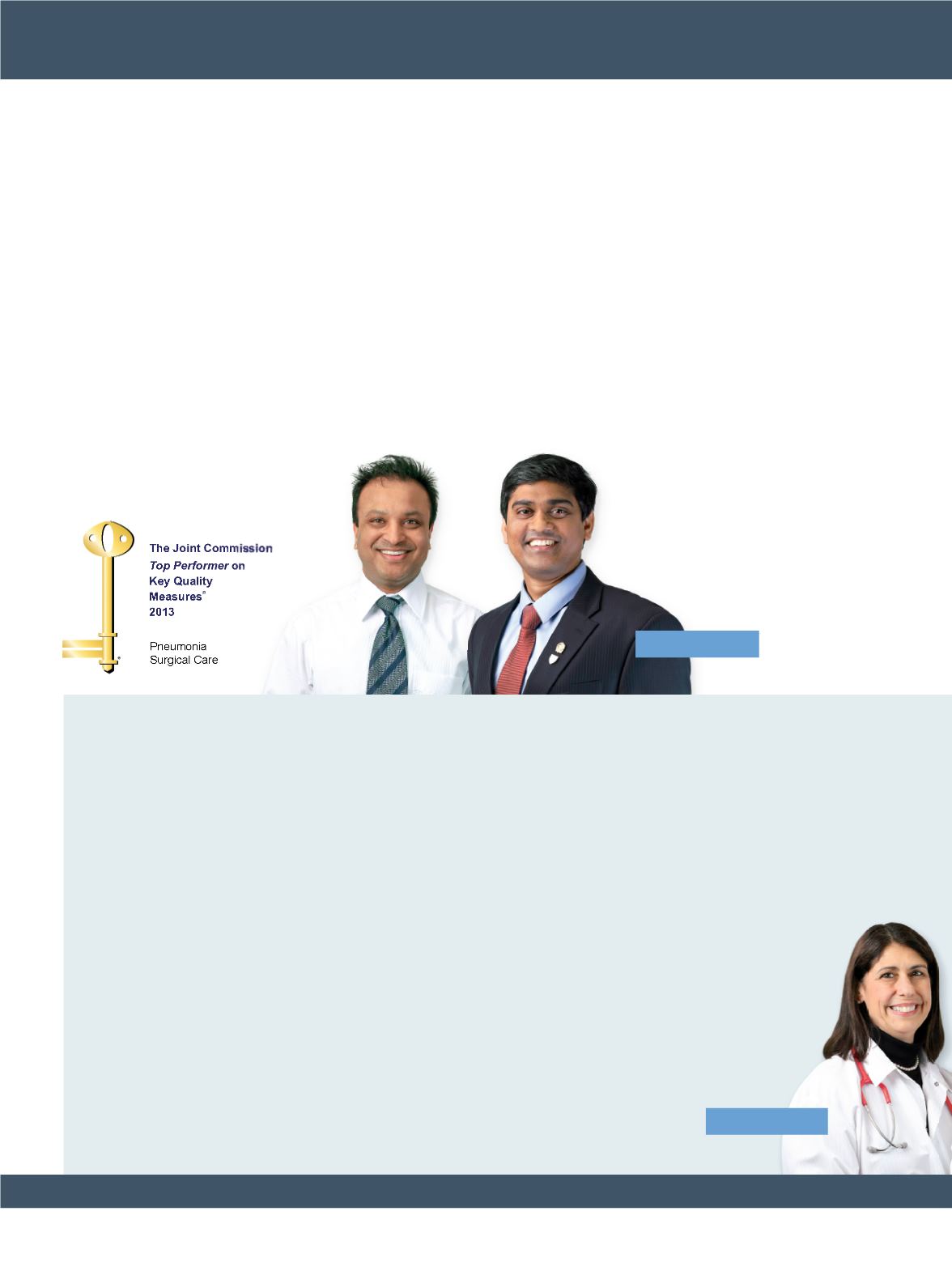 6
alicehyde.com
It's official: We're tops in quality, safety
In November, Alice Hyde Medical
Center was recognized as a
2013 Top Performer on Key
Quality Measures® by The Joint
Commission, the leading accreditor
of health care organizations in
the United States. Alice Hyde
was recognized as part of The
Joint Commission's 2014 annual
report,
America's Hospitals:
Improving Quality and Safety
,
for attaining and sustaining
excellence in accountability-
measure performance for
pneumonia and surgical care.
Alice Hyde was one of 1,224
hospitals in the U.S. to achieve the
2013 Top Performer distinction.
The Top Performer program
recognizes hospitals for
improving performance on
evidence-based interventions
that increase the chances of
healthy outcomes for patients
with certain conditions. To be a
2013 Top Performer, hospitals
had to meet performance criteria
based on 2013 accountability
measure data.
"We understand what matters
most to patients at Alice Hyde
Medical Center is the quality and
safety of the care they receive.
That is why we have made it a
top priority to improve positive
patient outcomes through
evidence-based care processes,"
says Douglas F. DiVello, President
at Alice Hyde. "Alice Hyde is proud
to be named a Top Performer, as
it recognizes the knowledge,
teamwork and dedication of our
entire hospital sta ."
2014 HIGHLIGHTS
Last summer, Alice Hyde Medical
Practices was recognized by the
National Committee for Quality
Assurance under the Patient-
Centered Medical Home
Program for using evidence-
based, patient-centered
processes that focus on highly
coordinated care and long-term
participative relationships.
The medical home is a new
concept for care that puts the
patient at the center of the
process. It emphasizes
coordinating care and
communication through a
primary care provider. Your medical
home is the centralized hub for all
of your care. It provides a new,
expanded type of care—
coordinating all your health care
needs, from helping you stay healthy
by reminding you of preventive
checkups and tests, to working with
you to manage chronic conditions,
visits to specialists, hospital
admissions and more. Research
shows that having a medical home
can lead to higher-quality care and
lower costs and improve patients'
and providers' reported experiences
of care. The medical home is
Our patients stand at the center of
intended to result in more personalized,
coordinated, e ective and e cient care.
The Patient-Centered Medical Home
Program identifies practices that
promote partnerships between patients
and their personal clinicians.
Each patient's care is
managed by clinician-led
teams that provide for all
the patient's health care
needs and coordinate
treatments across the
health care system.
We are Alice.
We are Alice.